Crowdfunding platforms make it possible for individuals and organizations of any size to harness social networks and raise start-up capital for projects that might otherwise fail due to lack of funding. Each week, Xpress highlights notable Western North Carolina crowdsourcing initiatives that may inspire readers to become new faces in the crowd.
BLESSINGS AND BBQ
Blessings and BBQ is a monthly gathering at which more than 200 homeless residents of the Asheville Buncombe Community Christian Ministry's Veterans Restoration Quarters are served a "special smoked meat dinner" by volunteers from several area churches. "Please join our efforts to serve a monthly meal to these special and often overlooked veterans," reads the group's campaign page, detailing that funding is not provided by volunteers' churches. According to founders Ed and Andrea Cody, the cost for each month's main course averages $300, so Blessings and BBQ aims to raise $3,600 to offset meal costs for a full year.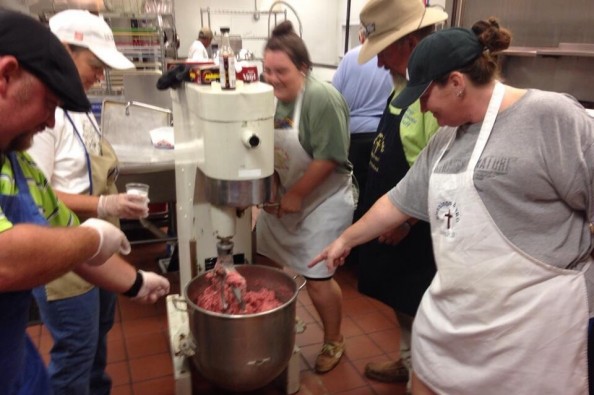 TAGG'D
"Street art is all around us, but often goes unnoticed," says the campaign page for Tagg'd, a new mobile app geared at promoting street art appreciation (an interesting move considering Asheville's recent struggle to curb unwanted graffiti). The Tagg'd app, operating under the slogan "Art. Is. Everywhere.," will allow users to photograph and geotag street finds, thereby cataloging the "transient art form" before a new coat of paint (or power washer) appears. Tagg'd photos will be searchable by city, and users can easily vote and share favorites, order prints of graffiti and track a wall's appearance over time. Founder Brendan Fitzgerald aims to raise $14,000 by Nov. 9 to contract with a developer and launch Taggd' on the mobile market.
Send your crowdsourcing campaign news to kmcreynolds@mountainx.com. A limited number of campaigns will be highlighted each week, at Xpress' discretion. Campaigns must be locally based and should represent a current project with an achievable goal. Conditions are subject to change. Read about more WNC campaigns here.